Opto module. 4 NPN transistor outputs. Cebek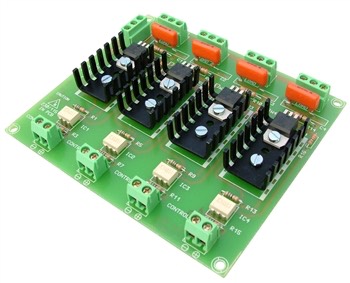 Brand: Interfaces
  Reference: T-2
  Power: Between 3 and 24 V.
  Outputs: 4 transistors Mosfert
  Maximum load: 3A
  Dimensions: 107 x 121.25 x 20 mm.
  Weight: 116 grams.
Interfaces 4 and 8 outputs to MOSFET transistor. By optocouplers, T-2 and T-12 modules electrically isolate the control signals for each input with respect to the corresponding output. While it is injected on any of the inputs a signal between 3 and 24 VDC, the corresponding output is activated allowing the passage of current supplied to the manifold. The maximum permissible load for each output is 45 V / 3A. These modules are suitable for DIN-RAIL T-2 and T-12 C7589: C7596
Technical Information
PDF of the technical product information: Guia electric circuit and software installation. A document that guides you through all phases of design and installation. The document describes the procedure for installing the software in Windows 7 but can use the same process with other versions of operating system...