Opto module. 4 triac outputs. Cebek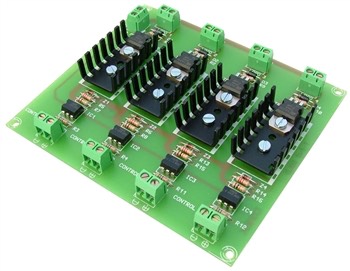 Brand: Interfaces
  Reference: T-3
  Power supply: 230V
  Outputs: 4 Triacs
  Maximum load: 3A
  Dimensions: 107 x 121.25 x 20 mm.
  Weight: 134 grams.
  Max. and min. : 500 W / 50 W                                                                                         
It has 4 independent outputs optocopladas triac. Through optocouplers, T-3 electrically isolate the control signals for each entry. To inject on any input a signal between 3 and 24 VDC, the corresponding triac output provides a voltage of 230 VAC, remaining in that state until the input voltage drop to 0. No supported resistive loads such as light bulbs, resistors, etc. These modules are adaprables to Carril-Din C7589 T-3, T-11 C7596
Technical Information
PDF of the technical product information: Guia electric circuit and software installation. A document that guides you through all phases of design and installation. The document describes the procedure for installing the software in Windows 7 but can use the same process with other versions of operating system...